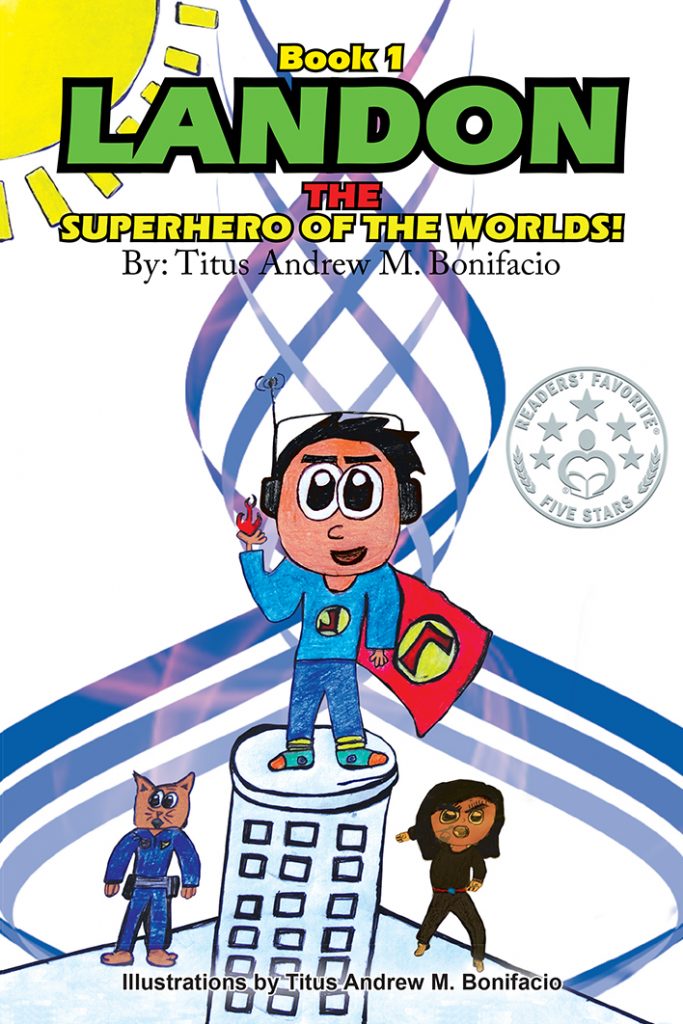 Landon, the Superhero of the Worlds!

Landon was just a shy kid in the neighborhood, a kid with a big heart and a best friend named Brandon.
Aside from being a good child to his parents, an obedient student in school and a loving best friend, Landon has another big role which he is filling in every chance he got — Landon fights villainous people in this and the other worlds.
Now, there was this guy named Pistacio, a kid who is always bullied by other kids at school; and now he is on a mission of ruling the world by destroying the famous New York City, and our ordinary shy kid Landon.
One day, Pistacio and Brandon, Landon's best friend, began preparing all of their destroyers for the invasion. What was Landon going to do? He's not supposed to fight Pistacio and his best friend by himself, and now he's torn how he's going to protect his best friend and also save the worlds.
A work from the heart and mind, "Landon, the Superhero of the Worlds" is unique in its portrayal of how true belief in one's self, obedience to parents and overpowering evil with good can change a villain's heart.
Find out what happened to Landon and follow a life that is destined to be altered from that day forward by reading the new offer coming from ten-year-old author Titus Andrew M. Bonifacio.Landon, the Superhero of the Worlds! is an engaging read from a child who wants to entertain his peers through his tale and vivid illustrations.
The story is fast paced and adventurous, and kids would love to possess the super powers that Landon has to try out some adventure. The narration is descriptive and, along with the help of the black and white sketches, the author makes the story come alive in front of the reader's eyes. The author's detailed descriptions will make every child dream and imagine. It's a good bedtime storybook and can also be used for read aloud sessions in classrooms and school libraries. Landon's character is adorable and so are all the other characters in the story. The story also has a good message for readers; that of superheroes who are brave, respect and help others, and stand up against bullies."
—☆☆☆☆☆ 5 Star Rating
Readers' Favorite
With detailed and expressive sketched illustrations, Titus Bonifacio has written an exciting adventure featuring a superhero who models bravery, respect, providing a help hand to others, and standing up to bullies. Quite a success for our young Author/Illustrator!"
-Christine Evans, M.Ed. School Librarian
Read an ExcerptOrder a Copy Now!
---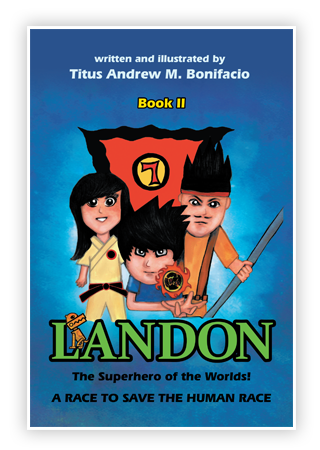 Landon, the Superhero of the Worlds: A Race to Save the Human Race

Celebrating not only the character metamorphosis of a young new-age hero but also the prodigal genius of a 12-year-old content creator, Titus Andrew M. Bonifacio's fictional comeback offers both a fascinating and inspiring blend of art and meaning in one book. Landon, the Superhero of the Worlds: A Race to Save the Human Race, the sequel to Bonifacio's previous title follows the protagonist's new adventures with more colorful illustrations, curious characters and one unforgettable story.
Landon is back with a new mission with his sidekicks: Cyberdog, Pistacio and Jaime. After the battle in New York City, Brandon betrayed Landon. He created drones and upgraded them as destroyer robots, turning them into super destroyers that could fly, shoot missiles and with the ability to become invisible. As Landon continued his journey at Cat World to help the Pusans, he had a face-to-face encounter with their legendary Master and one of their most beautiful living creations, Meowmi. Will Landon have something surprising and unbelievable up his sleeve to save the worlds again? Will Brandon finally turn good and stop the domination of the worlds?

Wildly engrossing, Landon, the Superhero of the Worlds: A Race to Save the Human Race spins the epic chase between good and evil and delights readers with the panoramic creativity of a young author and illustrator. His characteristic writing style suffused with vivid imagery is complemented with detailed drawings that bring Landon's world alive – a page-turning odyssey from beginning to end.
The plot and subplots are well executed. Tension is good as is the flow and consistency. Thus far, there is a good balance of high and low tension. The story is good, easy to follow and I love the illustrations. I think they really add to the story and help to give visual.
The flow is good as is the dialogue. You have good vocabulary for someone your age, and that gives your story a nice flow. Great job, Titus! You will go places!
–Carol Thompson, Author
Bonifacio is a very young author with a very big imagination. This book, the second in the series, is both written and illustrated by the ambitious 7th grader, and is bursting with enthusiasm and unfettered creativity. His exuberance for the tale is palpable, and the book is obviously crafted with care. It has an appealing charm — and everything a good superhero story needs, including the reminder that even a superhero can call his Mom when he needs advice."
"Bonifacio demonstrates great potential."
–BlueInk Book Review
Titus Bonifacio has done it again! At the ripe of age 12 he has accomplished what many adults have yet to achieve. He has placed a permanent mark in this world by publishing his second book. The world is looking for role models. Thank you Titus for stepping up! Landon, the Superhero is back to save the human race. With the continuing story of Landon we are again blessed with the creative writing and drawings of Titus Bonifacio."
-Orlando Javien Jr., Author"
Non-stop action keeps the reader turning the pages of this sequel to Landon The Superhero of the Worlds! Landon is a superhero we can all admire, demonstrating values of friendship, loyalty, forgiveness and respect while saving the world with bravery and tenacity. Titus Andrew M. Bonifacio's writing style employs vivid imagery and is complemented with detailed drawings, bringing his worlds alive!"
-Christine Evans, M.Ed
School Librarian
Titus Andrew M. Bonifacio's characters are unique and straight from the imagination of a young boy who tells the story of good versus evil, when best friends become sworn enemies. I suggest that this book is read in sequence to the first in the series. Landon, the Superhero of the Worlds: A Race to Save the Human Race was filled with excitement and fun. The superpowers are a great touch to the story, as are the secret, hidden lairs of both boys; a youthful version of Superman versus Lex Luthor comes to mind when reading about Landon's adventure. The illustrations were clever, with Titus Andrew M. Bonifacio's artistic talents proving to be detailed and imaginative. I believe that younger audiences aged 6-10 will enjoy the thrill and adventure of Brandon, Landon, Cyberdog and the rest of the sidekicks in this suspenseful war of supervillain versus superhero."
-Rosie Malezer, Readers' Favorite
Read an ExcerptOrder a Copy Now!
---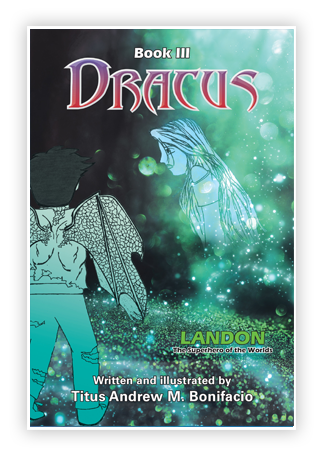 Landon, the Superhero of the Worlds: Dracus 3

Dracus continues a saga began two books prior involving a curse and Cat World. Although on the surface, Dracus may seem to be an ordinary kid. Readers come to discover, as Zubelle points out, that he has to deal with many things other kids their age do not. Th is evokes empathy and acceptance by many of his classmates.
With dramatic, non-stop action, and suspenseful storytelling, Titus steadily draws us into his world filled with bursting enthusiasm and unfettered creativity. His exuberance for the tale is palpable, and his characters are always unique and straight from his heart using enormous imagination. The reader, kept in suspense about what happened to Landon, will be surprised to discover who Hanchu and Blik really are and discover the genuine relationship between Dracus and Zubelle.
Titus is an award-winning author and illustrator of his book series, LANDON, the Superhero of the Worlds! He wrote and illustrated the first book in the series when he was nine years old grade school student, and it was published when he was ten. Following that, his second book, LANDON The Superhero of the Worlds! A Race to Save the Human Race was released while he was in middle school. Titus is now fifteen and a sophomore in high school. His first book won a 5 Star Rating from Readers' Favorite and was selected to compete in a book award contest.
Read an ExcerptOrder a Copy Now!
The US Review of Books
Dracus
by Titus Andrew M. Bonifacio
book review by Jonah Meyer
"Dracus s eyes turned red. He raised both hands and stretched his legs. The scales on the entire dragon head opened up and spread slowly …"
In many ways, young Dracus is just like any other teenage boy at his school. He likes girls, palling around with his ftiends, dressing cool, and going to the local ice-cream parlor. But he is different in one very special and big way. It comes out when he is in stressful situations and met with danger: he slowly transforms into a dragon-like creature. At one point in this whimsical, children's superhero fantasy, he even puts out a terrible fire at his school with his special powers, shooting water like a firehose through his dragon head. Naturally, the other kids are drawn to him, especially Zubelle, the prettiest girl in school. And this newfound popularity is welcomed heartily by Dracus, as his home life is lacking. He is poor and barely scrapes by at home without his parents, who we come to learn, have been cursed in Cat World. Though absent from his life, his beloved mom and dad are actually always by his side in the form of Hanchu and Blik, his loyal pets.
Perhaps the most impressive fact about this book is that this world of Dracus and his magical and fantastical adventures comes from the creative mind of a young boy. Bonifacio, who was nine when he wrote his first book in this series, is to be applauded for creating a highly inventive and enticing cast of characters. These, along with his imaginative plot, compel his readers to quickly devour the text (and Bonifacio's original illustrations) to learn what exciting events will happen next. Young readers will be lucky to discover the young author's books and will undoubtedly enjoy following the adventures of Dracus and company as the protagonist performs his good deeds, triumphing over evil each and every time.
Pacific Book Review
Title: Dracus- Book Ill of LANDON, the Superhero of the Worlds!
Author: Titus Andrew M. Bonifacio
Publisher: XlibrisUS
ISBN: 978-1-9845-6175-6
Genre: Fiction
Pages: 188
Reviewed by: Allison Walker
When Dracus' parents disappear on a trip and his grandmother passes away, Dracus is left to live by himself in their old, antique house. With only his dog, Hanchu, and frog, Blik for company, Dracus is alone in preparing himself for high school. But there's no way he can prepare himself for what happens next. A fire emergency at the school leaves one student trapped in a classroom. When kindhearted Dracus rushes in to help, the power of the dragon awakens in his body, saving the day but also frightening his classmates and teachers. The body of the dragon is a gift passed down from his grandmother, but what Dracus is supposed to do with it, he has no idea.
Budding author Titus Andrew M. Bonifacio brings to conclusion his LANDON, the Superhero of the Worlds! trilogy with new novel, Dracus. The novel follows young Dracus, as he struggles to uncover the mystery of his missing parents and the strange gift he inherited. Puberty brings big, scary changes to all teenagers, but Dracus is quite unprepared for the incredible metamorphosis he's about to go through. Like puberty, the dragon represents significant physical changes, and forces Dracus to confront the person he is destined to grow into. The dragon also becomes a source of power for Dracus who, orphaned and also alienated from his peers, probably often feels powerless and alone. Through his morphs into the dragon, Dracus has the strength to
defend the people he cares about and make real change to his life.
As if dangerous boogeymen and cryptic dreams about his missing parents weren't enough to trouble poor Dracus, he also has to deal with the very real dilemma of fitting in at school And turning into a dragon in front of his classmates doesn't exactly make a boy Mr. Popular. When he starts school, Dracus is an outcast, with weird hair and old clothes. Later, Dracus is able to make friends, and begins styling his hair and wearing cooi clothes. The people who were mean to him are charmed by his kind heart and forgiving nature, and instead of bullies, they become friends. In this book, people make
mistakes and are forgiven; which is a good lesson for all teenagers!
Bonifacio's illustrations are in the same tone as his writing and compliment his novel exactly. This industrious and creative young author has compiled a book which is boih charming and exciting. Dracus is a book appropriate for both older children and young teens. Like Dracus' new friends, readers may find themselves charmed by his humble nature and awed by his ferocious power.
BOOKSTORE